Freshwater Mountains
As we know, potable water is a rare resource in many countries.
A French team - led by Frederic Mougin - has been working on a crazy project to use gigantic freshwater pools which never have been exploited: icebergs !
Unlike floe ice, which consists of frozen sea-water and is populated by wild animals, icebergs are drifting mountains of fresh water. Calved from polar glaciers and continental icecaps, icebergs drift naturally in the ocean until they melt. Each year, tens of thousands of icebergs are produced this way from glaciers, all destined to melt and be lost in the oceans' salt waters. And each year, the equivalent of a year's consumption of potable water melts and disappears.
From Greenland to Canary islands
Foreseen 2012, a huge tabular iceberg of 30 millions of town will be towed from Newfoundland (after a natural drift from the Western cost of Greenland) to the Canary islands which are lacking of water.
Every technical expect has been carefully studied: shape of the giant, risk of fracture, melt estimate, negligible impact on the crossed ecosystems, and much more.
Capitalistic view?
We should admire this technical challenge and wish go luck to the project team !
However, before pretending that iceberg carrying would a solution to water scarcity, there are several things to consider.
This experience seems a typical capitalist and old-fashionned way of thinking. Water is missing ? Well, let's plunder another water source !
This is true for every mineral resource on earth: priority is given on mining before sparing.
A more sensible and modern aproach could be: let's try to understand and to lessen/adapt our water consumption.
Using modern agriculture techniques, reducing exports of crop products and importing food products whose culture is water intensive, may certainly cut down the water footprint of Canarias.
Old Arabic dream
Such idea of retrieving fresh water from ice is not completely new. It emerged in the 70's in Saudi Arabia.
Since, the clever Saudis have found a better virtual source of clean water: crop and live-stock products, imported from country having a better climate ;-)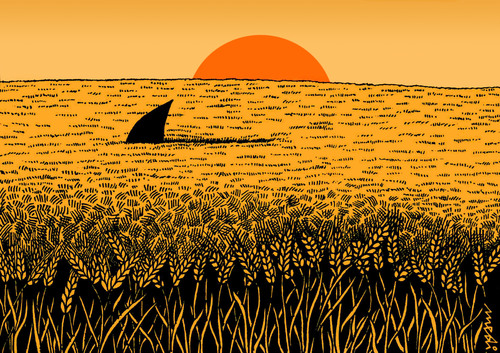 Credits: Mehdi Belatara
Indeed, food products are virtually containing water up to thousands of time their weight. Transporting them is far more simpler, cheaper and less polluting than this big iceberg hunting.
Conclusion : use the right water at the right place !
Read more on the original site.
Enjoy nice videos.